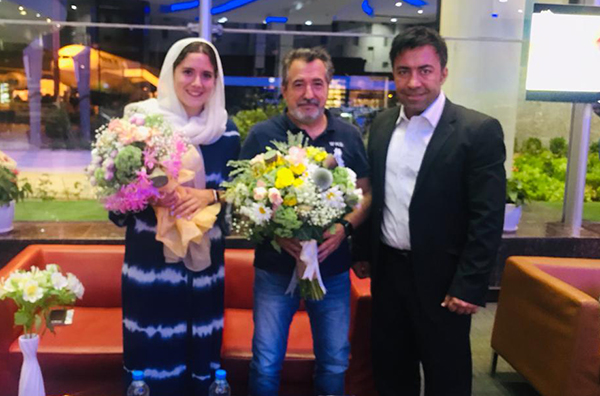 WKB Summer Camp has become the most memorable event in Iran's karate history.
The 1st WKB Iranian Summer Camp, under presidency of Shihan Vadood Mojarad Shahrivar with the presence of Kancho Pedro Roiz, the president of the international organization and Sensei Sabina Fernandez, the international champion of Kata and Kumite, was held for men and women in Ramsar in 21st to 23rd of August 2019 gloriously with a well organized manner.
It has only been 6 months since WKB has formally started their activities in Iran and considering this short time, it is a great achievement in Iran's Karate history and within all other methods.
By carefully planning the schedule, the summer camp started with the international referee's seminar on Wednesday afternoon, 21st August 2019. Kancho Pedro Roiz explained the newest referee's rules which will guide the referees for a better and fairer judgement with the least mistakes.
Regarding the schedule next was a practice in Ramsar's cable car on Thursday morning with a beautiful interesting view which has resulted in a grand motivation and excitement in the contributors. Some Kumite techniques and interesting points were instructed by Kancho Pedro Roiz.
Afterward, on Thursday afternoon, there was a different remarkable practice in the grass at Shahid Chamran's campsite with incredible scenery and very pleasant weather in which Kancho Pedro Roiz explained some advanced unique Kihon.
The last camp program was training in the delightful beach of Caspian Sea with all participants walking to the beach in a regular queue at 5 AM of Friday, arriving at the decided place after half an hour walking.
The training started in dawn, continuing with the sunrise to create many amazing and fascinating scenes, within which Kancho Pedro Roiz said that you are very lucky to have such a powerful team in Iran and looking at this beautiful scene is caused by a great plan, so practice in this magnificent landscape and use the ultimate benefit and enjoyment that many are deprived of these conditions.
One of the most remarkable notices of this camp was the presence of ambulance and paramedics at the campsite and during all events.