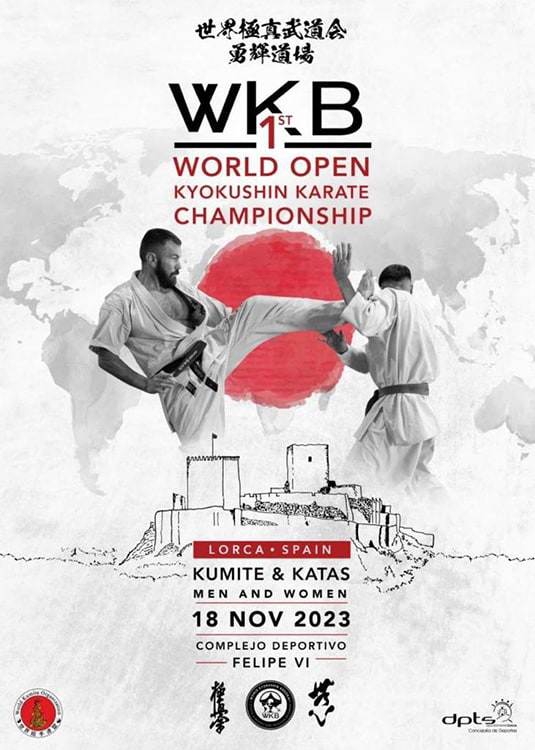 November 18, 2023 in Lorca (Spain) will be held The 1st Open World Kyokushin Karate Championship (WKB) in open weight category among men and women in the "kumite" and "kata".
OFFICIAL SCHEDULE
FRIDAY 17 NOVEMBER 2023
– 15:30h – 19:00h……… Registrations of all countries in official hotel "Jardines de Lorca"
– 15:30h……… TURKEY
– 16:00h……… ALGERIA and BELGIUM
– 16:15h……… CHILE and COSTA RICA
– 16:30h……… SPAIN
– 17:00h……… FRANCE, ENGLAND, GERMANY, GREECE and HUNGARY
– 17:20h……… IRAN, ISRAEL, ITALY and KAZAKHSTAN
– 17:30h……… MOROCCO, NETHERLANDS and PHILIPPINES
– 17:45h……… POLAND
– 18:00h……… ROMANIA
– 18:15h……… SRI LANKA, SWITZERLAND and SWEDEN
– 18:30h……… TUNISIA and UKRAINE
– 17:00h – 18:30h…………Referee meeting in official hotel "Jardines de Lorca".
SATURDAY 18 NOVEMBER 2023
All competitors, coaches and referees must be at the Felipe VI sports centre at 9 am.
– 09:15h……… Coach meeting.
– 10:00h……… Start of men's and women's Kata competition.
– 13:00h……… Kata final.
– 13:30h……… Start of kumite competition.
– 16:00h……… Opening Ceremony.
– 20:00h……… Final Open Weight +40 master, women and men.
– 21:30h……… Sayonara party in Faroli celebration halls*.
* A bus will leave from the sports centre to the sayonara party at 21h.