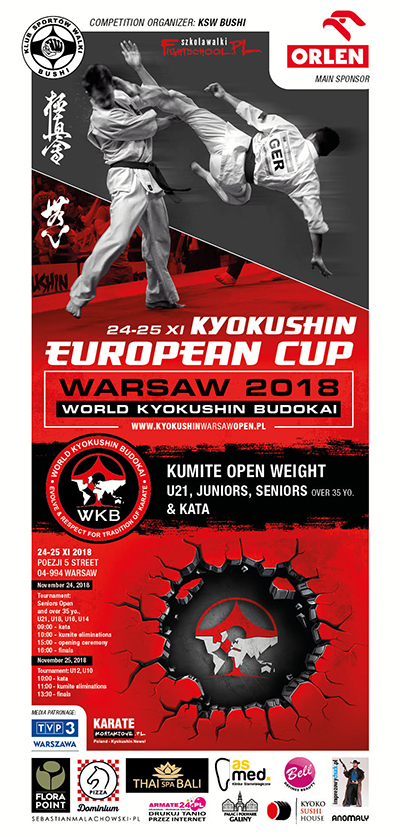 The 1st WKB European Open Kyokushin Karate Championship, U-21 European Kyokushin Karate Championship and uropean Junior and Seniors Cup will be held on the 24-25 November, 2018 in Warsaw, Poland.
The competition will be attended by 450 competitors from 19 countries from the following groups: WKB and IKO Matsushima, WKO, Kyokushin-kan, IFK, IKAK, IKO Catalunya, IKO Matsui, IKO Nakamura.
SCHEDULE
November 23, 2018:
11.00-19.00 – verification of registered competitors (all ages and categories)
18.00 – referee training, appointment of the jury
21.00 – Sayonara for team managers and coaches
November 24, 2018
Tournament: Seniors Open and over 35 yo., U21, U18, U16, U14
09:00 – kata
10:00 – kumite eliminations
15:00 – opening ceremony
16:00 – finals
November 25, 2018
Tournament: U12, U10
10:00 – kata
11:00 – kumite eliminations
13:30 – finals
On Friday at At 9 pm, after a session of judges, we planned a "Sayonara party" in the restaurant of the "Felix" hotel. Members of the WKB International Committee, BC WKB and judges are invited free of charge. Other people pay 50 PLN (12 euros).
The condition of taking part in the "Sayonara party" is sending the application by e-mail to the address kswbushi@onet.pl until Wednesday, November 21, 2018, at 24.00.
The application must contain the name and surname of the participant, judge / BC WKB / member of the international committee WKB / other person.