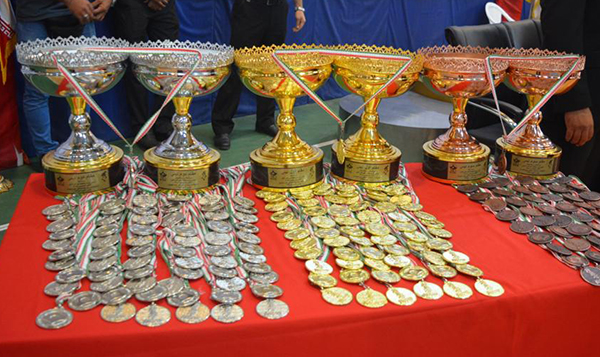 The 2nd WKB men's national championship of Iran, the commemoration of late Esmaeal Mojarad Shahrivar, was held on Friday, October 11, 2019, in Tehran at Shohadaye Evin Sports Complex, under the supervision of Shihan Vadood Mojarad Shahrivar, the president of WKB in Iran.
More than 300 karatekas participated in this event in various teams, including: Tehran, Khorasan Razavi, East Azerbaijan, Ardebil, Lorestan, Kordestan, Fars, Pardis, Roodhen, Boomehen, Damavand, Eslamshahr, etc. in all age ranges, in two sections of Kata and Kumite and for two different groups of above and below brown belt.
The opening ceremony started at 09:00, with teams marching and listening to the national anthem. Afterwards, Shihan Vadood Mojarad Shahrivar, the head of WKB in Iran, expressed his gratitude toward the participants and their family in hall and regarding the fact that the competition was held to commemorate his late father, Esmaeal Mojarad Shahrivar, while remembering him as a dedicated and patient person, gave his speech with a special emphasis on respecting parents. In the end, while showing his appreciation to Senpai Hassan Mojarad Shahrivar, the secretary of WKB in Iran, he wished success and health for all participants which continued with the start of the competitions.
Judges for this event were: H. Mojarrad Shahrivar, E. Mojarad Shahrivar, O. Pezeshk, A. Pezeshk, M.A. Rashedan, M. Pourghorban, M. Yari, A. Aslani, M.M. Farvardin, B. Shabani, H. Taheri, K. Ebrahimpour, Y. Veisi, J. Faraji, H. Nezami, F. Mashayekh and Shihan F. Naderi was responsible for arranging the referees where Sensei A. Mashayekh and Sensei F. Naderi were the head judges with F. Ozamaei cooperating as one of the board members of WKB in Iran. In the end, E. Mojarrad Shahrivar and O. Pezeshk were chosen as the best middle referees and M. Chalak as the best side Referee.
Finally, at the end of the competition, for ages under 18 years, Pardis's team became the champion with A.H. Goudarzi as their instructor, while Mazandaran's team of S. Safari stood at second and Nasir Shahr's team of H. Nour Afkan at the third place.
Furthermore, for age group adults and pioneers (+18), Lorestan's team won the gold medal by F. Naderi as the trainer. Team Khorasan by A. Pezeshk and team Tehran by A. Mashayekh gained the silver and bronze medal respectively.
The Ethics, most fighter and best technique certificates was given to A. Farzin from Khorasan Razavi, A.R. Veisi from Mazandarn and A.H. Nouri in the same order. In addition, M. Kariman and M. Koushanfar were responsible for the tables. The tournament's team tried their best for holding the competition as best as they could, including S. Hosseini Fashami, A.A. Azadi, A. Koulivand and M. Aziz.