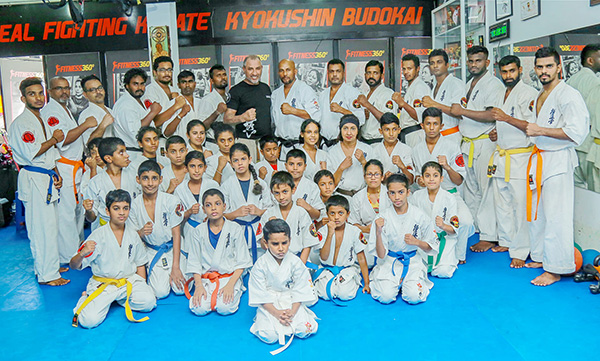 Sri Lanka made history by having the honour of experiencing the best training techniques and knowledge sharing by one of the world best trainers from Ukraine.
Shihan Sergei, a world renowned WKB and special training techniques master who has been instrumental in developing and creating two world champions and many successful first tier champions in the world was at the WKB Colombo branch DOJO to train and teach may new techniques to the young kids and also to conduct a special training for the senior trainers.
Sensei Sampath Lasantha, who invited Shihan Sergei who was on tour in Sri Lanka took the lead role and organised this unique and once in a lifetime opportunity to over 40 young children along with over 15 senior trainers and ensured for them to gain much experience from the Master Shihan Sergei himself.
While on tour the Master gave his own special techniques of learning which he calls the 'Three-Way Learning Technique,' which he illustrates as 'learning by looking and understanding,' 'learning by seeing' and 'learning by way of doing both of the above'.
The Master personally took time to teach, coach and train the kids and seniors across all belt categories and ensured to maximise his time at the Colombo DOJO. He not only was actively training with the kids but also took the seniors to the next level of fighting.
WKB Sri Lanka looks to build its next level of potential champions at various international tournaments during this year and this work shop and special training session would certainly assist the champion contingent which is being made ready by the local Master himself Sensei Sampath Lasantha, the four DAN Black belt in the Kyokushin discipline.
Shihan Sergei was well treated to the well-known Sri Lankan hospitality and given respect and honour through various gifts and plaques of appreciation.
source http://www.ft.lk/